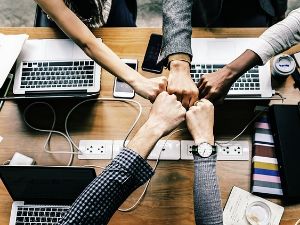 A new study recently published by HPE Aruba called "The Right Technologies Unlock The Potential Of The Digital Workplace," reveals some interesting details about technology in the workplace that's worth paying attention to.
The study was conducted by collecting feedback from more than seven thousand companies of various sizes around the globe.  These were broken broadly into two groups: "Digital Revolutionaries," which made more and better use of cutting edge technology, and "Digital Laggards" which were slower to adopt the latest and greatest technologies.
The headline statistic is that 51 percent of employees working in companies employing more technology reported greater job satisfaction, and an impressive 72 percent of employees in these companies reported a greater ability to adopt new work-related skills.
Other intriguing statistics include:
31 percent of respondents in the "Digital Laggard" category indicated that tech aided their professional development, compared with 65 percent in the "Digital Revolutionary" category
92 percent of respondents said that more technology would improve the workplace overall
69 percent of respondents indicated a desire to see fully automated equipment in more widespread use in the workplace
Joseph White, the Director of Workplace Strategy, Design and Management at Herman Miller said in a press release:
"No matter the industry, we're seeing a move toward human-centric places as enterprises strive to meet rapidly changing expectations of how people want to work.  This depends upon combining advances in technology -which includes furnishings- with the cognitive sciences to help people engage with work in new ways.  This will not only mean singular, premium experiences for individuals, but also the opportunity for organizations to attract and retain the best talent."
The study notes, however, that cyber security issues remain as challenging as ever.  Survey respondents reported lower than average cyber security awareness, which could lead to greater risks and exposure as workplaces become increasingly digitized.
While a small majority (52 percent) of respondents reported thinking about cybersecurity often (daily), fully a quarter have connected to unsecured WiFi and one in five reported using the same passwords across multiple web properties. These are the two most dangerous cybersecurity-related behaviors.
Clearly, increased technology has its risks.